Discount Tickets
KANSAI THRU PASS (2day Ticket / 3day Ticket)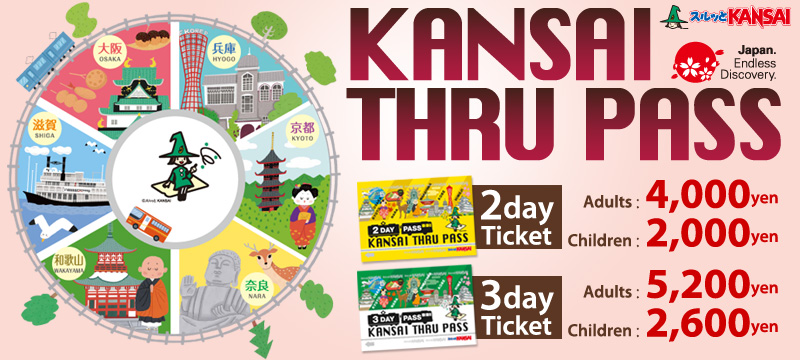 A single PASS lets you ride the trains, subways and buses in Kansai!
Ticket includes Area of coverage

KANSAI THRU PASS 2day Ticket (2day Ticket / 3day Ticket)

Unlimited rides on subway, private railway and bus in Osaka, Kyoto, Kobe, Nara, Wakayama and Shiga. (※excludes JR Line)

Guide book

Includes discount coupon for 350 major tourist facilities along the railway lines

Selling period
From April 1, 2018 to March 31, 2019
Validity period
From April 1, 2018 to May 31, 2019
Price

[2day Ticket]Adult : ¥4,000 (Child : ¥2,000)

[3day Ticket]Adult : ¥5,200 (Child : ¥2,600)

Exchange counter
Nankai Kansai-Airport Station Ticket Office
Reminder notes

Please show your passport when you exchange the voucher to the ticket.
This ticket is valid for 1 ticket per person.
Unavailable to use JR Line, Airport limousine bus and reserved seat bus with this ticket.
In case you use limited express (*1), you need to purchase a reserved-seat ticket.
(*1)Limited express of Nankai Railway and Kintetsu Railway
Refund is only available for unused ticket and coupon at ticket sales place which you purchased the ticket.
It is necessary, however, that the ticket be presented for refund during the validity period, and an extra fee will be added.
In the case any accident should happen when using your ticket, we will reissue your ticket at various stations.
If you lose your ticket, we cannot reissue it.
In case train services are suspended by each railway company, we cannot issue a refund.
If you use the ticket illegally, the ticket will be unavailable to use and collected.
In the unavailable areas, you need to purchase a separate ticket.